Description

General Electric GE Lighting
This LED fixture is from the GE Evolve line, called EPPT.  Almost identical to their discontinued T10C, this fixture has the LED light integrated so no bulbs to change.  Based on a 12 hour day use cycle, you can anticipate about a 20 year life and up to a 60% energy reduction.  Options include photocell and side panels.  Browse the entire GE catalog here and call us for a quote.
Wave Lighting
As an authorized Wave Distributor, we offer their full line of products including poles and fixtures for residential and commercial applications.  Their Colonial, Globe and Acorn fixtures are popular for both RV and mobile home parks.  Many options and sizes available.  Shop Wave products here and give us a call for a quote.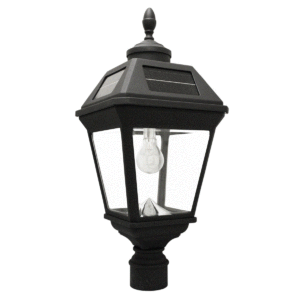 Solar Lighting
Looking for a solar option to save on lamp replacement costs or put in an area where you don't have electric service?  Gama Sonic offers options including the Regal and Imperial fixtures that will fit any 3″ pole.  With a lithium-ion battery, charging will happen during the day from direct sunlight and then come on at dusk.

Poles – Commercial & Residential
We offer a variety of poles for commercial and residential applications.  The options are endless…round, square, length, surface mount or buried, color, base covers, fitters, and more!